Rustic Interior Shaker Doors in Knotty Alder

5 Panel Interior Doors in 6' 8"

Disclaimer: Natural variations in the color or texture or grain of the wood are not concidered defects. Knot location, Knot Size and Quantity for Knotty Alder or other Rustc/Knotty wood species, Knots which do not show light through the door are also not considered as defects.
Interior Casing and Base

We Have Door Handles

Only $524 each Prehung
Pre-hung Doors:
1' 6" x 6' 8" = (18")
2' 0" x 6' 8" = (24")
2' 4" x 6' 8" = (28")
2' 6" x 6' 8" = (30")
2' 8" x 6' 8" = (32")
2' 10" x 6' 8" =(34")
3' 0" x 6' 8" = (36")

Double Doors sizes:
3' 0" x 6' 8" = (2 x 18")
4' 0" x 6' 8" = (2 x 24")
4' 8" x 6' 8" = (2 x 28")
5' 0" x 6' 8" = (2 x 30")
5' 4" x 6' 8" = (2 x 32")
5' 8" x 6' 8" = (2 x 34")
6' 0" x 6' 8" = (2 x 36")
includes free ball catches

double doors options:
add $75 for Locking T-astragal
with dual flush-bolts.



Knotty Alder Interior Trim
Casing and Baseboard

3 1/2" Alder Casing add $2.10/ft
5 1/4" Alder Baseboard add $2.04/ft


3 1/2" Flat Poplar Casing add $0.99/ft
5 1/4" Flat Poplar Baseboard add $1.67/ft


PRE-HUNG JAMB OPTIONS
Primed Jambs
are Included
Free Prehung

Knotty Alder Jambs
6' 8" doors add $30

Poplar Jambs
6' 8" doors add $30

Rabbet Jambs
6' 8" doors add $65

Hinges
Yellow Zinc
Included Free

Antique Bronze
Included Free

Oil Rubbed Bronze
6'8" add $15

Satin Nickel
6'8" add $15

*Pre-hung Knotty Alder Doors includes:
4 9/16" Engineered Pre-Primed Jambs with Yellow Zinc or Antique Bronze Hinges.

Knotty Alder Jambs: add $30 for each 6' 8" door.
Optional Jamb Sizes: 3 1/2", 4 7/8", 5 1/4", 6 9/16", 6 7/8", 7 1/2" (extra charges will apply).

Poplar Rabbeted Jambs: 6' 8" ($65 4 9/16" and $85 6 9/16")
Larger Jamb Sizes Available: 4 7/8", 6 9/16", 6 7/8" and/or Custom Sizes. (extra charges will apply).

Hinge Upgrades:
Ball-bearing hinges: (add $15 per 6' 8" door)
(Oil Rubbed Bronze, Satin Nickel, Bright Brass)

**Double Doors include: ball catches. Lockable double doors requires a Astragal with flush bolts.. add $75

(Door Jambs will be Knocked Down for Freight Shipments)
Why Rabbet jambs



Stronger
Easier to Install
More Durable
Commercial
No Maintenance
High Traffic Areas

Don't Forget to Order Your Quick Door Hangers
$6 for a 6' 8" door and $8 for a 8' 0" door


Optional: Bull-nose Kerfed Cut into any Interior Jambs... add $20 each

Call 219-663-2279 to Order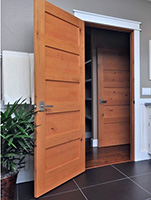 Pre-Finishing - Any Color available!
any 6' 8" add $159 each door
Get your doors delivered factory Pre-Finished. Choose any color (we match colors too) no mess, no hassle. Includes: 20 step process, hand sanded, filler, hand sand, UV color choice, hand sanded, Sealer coat, more hand sanding, more sealer, and more sanding and 2 UV protectant coats. The Jambs Finished to match or choose White Primer.
Great Finish at a great low price.

To Order Call 219-663-2279 (Sales)
We Make Custom Entry Doors and Glass Very Reasonable Pricing too! Call us for a quote 1-219-663-2279

Chicagoland Wood Doors Showroom is Open in Crown Point, Indiana - Dealers Welcome

Nick's Building Supply, Inc.
●
11100 Broadway Crown Point, IN 46307
● Phone:
219-663-2279
Copyright © 1999-2023 Nicks Building Supply, Inc. All rights reserved.
Privacy Policy
Sitemap