How To Inspect your New Door

1. Remove Top Plywood


2. Remove Bottom Plywood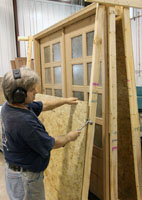 3. Measure and compare to you order
(check finish color if applied)


4. Measure length and width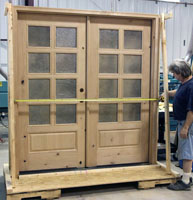 5. Measure the Jamb Size


Inspect the Door
Do not discard the crate
in case of product return.


CRATING PROCESS
The Crating department builds fork-liftable custom sized crates on pallets from scratch for each and every order. We completely encapsulate the load in 1/2" OSB plywood and use Styrofoam inside the crate to protect the wood doors while in transit.


CRATING TYPES: Please talk to a sales rep about how your door will be shipped. We can ship "KD" or "knocked down" where your jambs, threshold, doors, sidelights, and trim pack are all loose in the crate, assembly will be required. Ideal for unfinished (needing to be stained on site-doors). For easier installation, we'd recommend shipping your door completedly assembled (exteriors only).


ABOUT CANADA SHIPMENTS
We include Broker fees, GST, PST or HST with all written Quotes for Shipments to Canadian address'. Easy and hassle free delivery of doors direct to your home or job-site.



TRACKING
Once shipped from our Indiana warehouse you will be notified by email or fax with your Tracking number (PRO #) and can track your shipment online.
ABF.com
RoadRunner.com
ups tracking



SCHEDULED DELIVERY
Every Order is a Scheduled Delivery by the shipping company. They will contact you at the number provided and schedule the delivery for your convenience. All door orders involve a significant size and weight. Customers are responsible for providing and arranging the offloading help.



Customers Responsibility
Please keep in mind; it is the sole responsibility of the Customer to arrange the unloading of the door order unless special services have been arranged with the Shipping company.
Many Crates are too big for the Lift gate. Specialty services may be available**, (example: Flatbed service). Freight orders shipped by semi trailer.
*Remove front sheet of plywood to insure product has not been damaged during transit. If there is any damage you must acknowledge on the drivers paper work that there is, or we will not be able to file a claim and any repair or replacement costs will be your responsibility.



"from" Shipping Prices
Whenever you see listed (from $xxx.xx freight shipping), know that this is an average calculated freight cost across the continental United States. Your location may be slightly higher or lower than the average.
Shipping charges are subject to change.



Returning Orders
Nick's Building Supply goes through great lengths to package your product with A Grade materials. If for any reason a product must be returned it is the sole responsibility of the customer to re-crate the product in a similar fashion as to it was received. Make sure you completely inspect your product before it is fully uncrated, so if a return is necessary it can be accomplished with minimal effort. We will not be held responsible for any costs related to returning items. If any issues arise during the inspection process please contact the Nick's Service Department immediately for instructions. Goods that have been Installed may not be canceled, returned or refunded, Thank you.



Pick ups and the Expectations:
Our pick up times are Monday thru Friday 9:00 AM to 12:00PM and 12:30PM to 3:00PM, Saturdays 9:00AM to 12:00PM (there will not be loading help on Saturdays). PICK UPS ON WEEKENDS MUST BE SCHEDULED AND ORDER CONFIRMED DONE!
Blankets, straps, bungee cords, tarps, foam, cardboard, anything to keep your door steady and safe during transit. These door will be assembled unless your sales person is told otherwise. Trim packs (brickmold and casing) will be loose and tightly wrapped together. Please don't forget your locks if you have them too! We will not crate an order for pick up, vehicles recommended for picking up doors listed but are not limited to: Long bed trucks, Box trucks, Flat bed trucks, pull behind trailers.

Quick Ship Doors Wood Doors are fully factory assembled, pulled from stock, carefully inspected for quality, crated and protected with plywood on all sides.

Clearance Doors Typically prehung doors ready to crate, deliver or pick-up (some models may have selectable options which may add to the shipping time). No customizations are available for clearance doors as most are "as is" (unless noted). Pre-finishing is always available for un-finished models.

Build Door Systems N-Line, AC-Line, SW-Line, PFC Doors, Tiffany Line, Olympus Line and Carved Doors are all semi-customized door systems, pre-hung and assembled from scratch requiring that extra time needed for completion.

Interior Doors Prehung when order is processed. Interior Doors are shipped knocked down on freight shipments to save load space and for protection.
Local deliveries of interior doors are pre-hung in the jamb with shipping board holding the jamb bottoms.