Interior Etched Glass Doors - Interior Specialty Glass Doors - Arch French Doors
Model 801 Knotty Alder and 801 Mahogany
Knotty Alder 6' 8"
3' 0" x 6' 8" and 2' 6" x 6' 8" Only $349 Pre-hung
Knotty Alder Etched Glass Doors in 8' 0"
3' 0" x 8' 0" and 2' 6" x 8' 0" Only $449 Pre-hung

Mahogany Interior Etched Glass Doors
Mahogany 6' 8"
3' 0" x 6' 8" and 2' 6" x 6' 8" Only $369 Pre-hung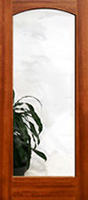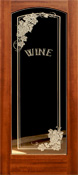 Mahogany Etched Glass Interior Doors in 8' 0"
3' 0" x 8' 0" and 2' 6" x 8' 0" Only $469 Pre-hung

PRE-HUNG JAMB OPTIONS
Primed Jambs
are Included
Free Prehung

Knotty Alder Jambs
6' 8" doors add $20
8' 0" doors add $30

Mahogany Jambs
6' 8" doors add $20
8' 0" doors add $30

Poplar Jambs
6' 8" doors add $10
8' 0" doors add $20

Poplar Jambs
6' 8" doors add $10
8' 0" doors add $20

Rabbet Jambs
6' 8" doors add $25
8' 0" doors add $50

Hinges
Yellow Zinc
Included Free

Antique Bronze
Included Free

Oil Rubbed Bronze
6'8" add $15, 8'0" add $20

Satin Nickel
6'8" add $15, 8'0" add $20

*Pre-hung Knotty Alder Doors includes:
4 9/16" Engineered Pre-Primed Jambs with the yellow zinc hinges.

Knotty Alder Jambs: add $20 for each 6' 8" door
Optional Jamb Sizes: 3 1/2", 4 7/8", 5 1/4", 6 9/16", 6 7/8", 7 1/2" (extra charges will apply).

Mahogany Interior Jambs: 4 9/16" and 6 9/16" from $20 on up

Solid Poplar Jambs: from $10 on up. Choose Colonial or Square Stops.
Rabbeted Jambs: 6' 8" ($25 4 9/16" and $50 6 9/16"), 8' 0" ($30 4 9/16" and $60 6 9/16")
Larger Jamb Sizes Available: 3 5/8", 4 7/8", 6 9/16", 6 7/8" and/or Custom Sizes. (extra charges will apply).

Hinge Upgrades:
Ball-bearing hinges: (add $15 6' 8", add $20 8' 0")
(Oil Rubbed Bronze, Satin Nickel, Bright Brass)

**Double Doors include: ball catches. Lockable double doors requires a Astragal with flush bolts.. add $75

(Door Jambs will be Knocked Down for Freight Shipments)
Why Rabbet jambs



Stronger
Easier to Install
More Durable
Commercial
No Maintenance
High Traffic Areas

Don't Forget to Order Your Quick Door Hangers
$6 for a 6' 8" door and $8 for a 8' 0" door


Optional: Bull-nose Kerfed Cut into any Interior Jambs... add $20 each

Call 219-663-2279 to Order
Closeup Glass Door Designs:
Frosted, Wine, Frosted Office and Frosted Moon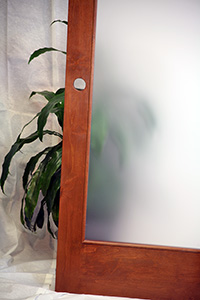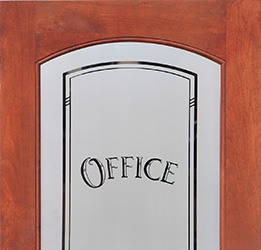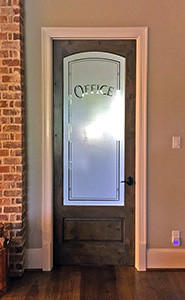 Pre-Finishing - Any Color available!
6' 8" add $159 each - 8' 0" add $179 each
Get your doors delivered factory Pre-Finished. Choose any color (we match colors too) no mess, no hassle. Includes: 20 step process, hand sanded, filler, hand sand, UV color choice, hand sanded, Sealer coat, more hand sanding, more sealer, and more sanding and 2 UV protectant coats. The Jambs Finished to match or choose White Primer.
Great Finish at a great low price.
interior french doors interior glass doors, choose alder french doors or choose mahogany french doors. Pantry doors and laundry doors priced right for any home makeover. Slab doors or pre-hung french doors include solid wood jambs and hinges. Nick's Building Supply is the supplier of pre hung interior glass doors, mahogany glass doors and laundry and pantry doors on the internet. Wine room doors utilize mostly clear glass and soft wine and grapes etching will allow direct sight of the interior of the wine cellar through the wine cellar doors.
Get you french doors pre-finished (stained and sealed) to any stain color of your choice by finishing professionals that use the latest (green) zero voc UV based coatings for the smoothest furniture grade interior wood door finish available today.

Call one of our sales representatives today for an easy interior wood door quote and for more information.
219-663-2279
About our Doors
We at nicksbuilding.com specialize in manufacturing "high end" wood interior french doors and sell them directly to the public,
eliminating the middle-man and retail markup. Offering the best quality wood doors at the lowest prices.
We can stain and seal interior french doors any color so you can get them prefinished ready to install.
We are a family owned and operated business since 1977, and the first on-line to sell them on-line since 1999 from our Mid-West, Chicago-land and Crown Point, IN location.


We Make Custom Entry Doors and Glass Very Reasonable Pricing too
Call us for a quote 1-219-663-2279

Chicagoland Wood Doors Showroom is Open in Crown Point, Indiana - Dealers Welcome



Nick's Building Supply, Inc.

●

11100 Broadway Crown Point, IN 46307

● Phone:

219-663-2279

Copyright © 1999-2016 Nicks Building Supply, Inc. All rights reserved. Privacy Policy Sitemap