If you are planning to replace an older door or simply install a new one in a renovated home, you have a wide arrange of doors from which to choose the right one. Once you have made up your mind whether you prefer Shaker, mansion or French doors, you also may want to look at two other options: slab or prehung doors.
At Nick's we offer you a choice. What you decide on does not depend on our fine selection of quality doors of all types. It rests on your personal preference and your ability to properly hang a door from scratch. If you do not have the time, the energy or the skills, prehung doors are perhaps best for you.
What Are Prehung Doors?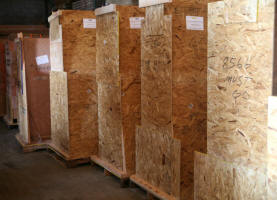 Prehung doors are not a type of door. A prehung door can be Shaker, Mansion, French or any other type. The term "prehung" (or pre-hung) refers to a specific state. Pre-hung doors are doors that come with everything already attached to the slab. This includes:The door frame
Hardware
Hinges
If the door comes without a frame, it is a slab. The frame makes the doors a little easier to install, but it is heavier and requires two or more people to complete the task of hanging the door properly.
Types of Prehung Doors
Not all prehung doors are the same. You can purchase them in various degrees of readiness. The most common types consist of the following:
Assembled: this type of prehung door comes with everything in place and ready to install. The jambs have already been applied to the door stop and hinges.
Partially Assembled: some of the components are not attached or in place.
Knocked Down: while such doors have had the basic preparation work completed, none of the requisite components, e.g. door jamb, lock or hinges, have been applied.
This allows you to make a choice based on your budget, the time you have available for installation and the level of skill. While the knocked down version may present the most challenges, it is possible to produce an assembled version within 20 to 15 minutes.
Yet, while prehung doors may seem the best option, it does not mean that properly hanging them does not require hard work. You need to be sure your finished product hangs levelly, and swings open and closes properly. It also requires you know the specific measurements of your entryway. Talk to the professionals at Nick's about your requirements. They can help you discover the advantages of both slab and prehung doors.
Choosing Prehung Doors
Doors are a necessity in our lives. As such, they need to perform perfectly and consistently. The latch must always capture and hold, the door must always clear the jamb, and the entire door must swing freely on its hinges. This can make installation a challenge. Prehung doors are the answer for those who want to save time and labor, but no sacrifice quality. Visit nicksbuilding.com for more information.