French doors are a part of the past as they date back to at least the 17th century. They provide an elegant grace to the exterior or interior of a home. Today, they operate as patio doors as easily as they once separated the music room form the parlor.
French Doors: Types
Over the centuries, the French door has evolved into more than a singular type. This does not merely refer to their now indoor/outdoor usage, it also indicates the various characteristics that make them a unique addition to any home.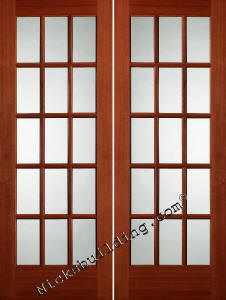 Bi-Fold: sectional doors, these French doors fold easily into pairs. You can open them from either side. You commonly employ this type of for closing off your clothes or junk closet. These are usually wood doors with little to no glass.
Exterior: in order for these to successfully keep out the elements, they need to be double paned and properly insulated. They come as one solid piece of glass or more than one that slides along the tracks.
Interior: interior French doors act as room dividers. They are partitions and usefully subdivide space of various types. Materials are glass and/or wood.
Pocket: meant to save space, this type of interior French door slides into the wall. It may consist of wood and/or glass.
Multi-Fold: if the space is wider than average, a multi-fold French doors is the ideal tool to separate them. Older banquet halls often had multi-fold French doors to act as decorative and instant space dividers. Generally such devices are composed of wood.
Sliding: this is often the stereotypical patio or balcony door. They do not have hinges but ride on a track. They are easy to use and bring in the sunshine and fresh air. They can be constructed to take up a substantial amount of wall creating a window-effect. This is the long-span patio or French door.
The various types allow you to carefully select the French door that is suitable for your home.
Choosing French Doors
This style of door successfully combines elegance and grace with practicality. Whether they open outwards or inwards is one of the characteristics you need to consider before purchase. You also need to look at other factors that should affect your choice of doors from our large supply at Nick's. Do look at such things as:
Architecture of your home – interior and/or exterior.
Glass: how much do you want and of what type or style: beveled, etched, glazed or textured?
Surroundings: this should have an impact on whether French Doors are suitable. Remember, this is all about the view.
Space: French doors can demand more space than other interior doors. It depends upon whether they work off a hinge or a slide.
Always keep in mind that, as with all wood doors, when you purchase them, they are more than an entrance or egress. They say doors speak volumes about the residents of a home. If this is true, French doors talk elegantly and gracefully while fulfilling a practical function for any household. Visit nicksbuilding.com for more information.