FIRST DOOR
COMPANY ONLINE
STARTING 1999
OVER 1,000,000
DOORS IN STOCK!



Exterior Doors, Entry Doors, Wood Doors, Garage Doors. Competitors Try But Cannot Beat our Prices.

Compare and Buy Here! We Ship Doors anywhere in the USA, Canada and Dubai





Call 7 days a week 219-663-2279

Replacing your Front Door? Our In-house door shop can build
entry doors to fit most openings

Search
Rustic Patio Doors - Knotty Alder Wood Patio Doors

Model SW-250 with Insulated Builder Glass
Single Door only $889.00 pre-hung sectional
Double Door only $1979.00 pre-hung (as shown)


Zinc or Patina Caming

Available in 6' 8" height - Interior or Exterior Use
Doors are 1 3/4" Thick Knotty Alder Wood
Available single door size:
3' 0" x 6' 8" (36" x 80")

Knotty Alder Pre-Hung Door Systems Include:
(hinged type doors, no sliding doors)
4 9/16" Solid Knotty Alder Wood Jambs
(Larger Jamb Sizes Available)

Glass: Insulated Tempered Frosted and Beveled Glass
with Zinc Caming or Patina Caming

Bronze Aluminum Threshold with Oak adjust Sill
Q-Lon© compression weather-stripping
Hinge colors: (oil rubbed bronze, satin nickel, polished Brass)
Lock Preparation (single or double bore)

Knotty Alder doors are available as a:
Single Knotty Alder Doors (and with sidelights)
Double Knotty Alder Doors (and with sidelights)
Stationary Doors hung with Active Doors (and with sidelights)
In-swing Doors or Out-swing Doors

Numerous combinations available to choose from.
Our in-house Door Shop can build to your specifications.
Download or Print our chart below for more configurations.

Rustic Door Questions?
Call 219-663-2279(Sales)
Door Configurations - Choose by the "Letter" designation, or design your own and we'll make it for you.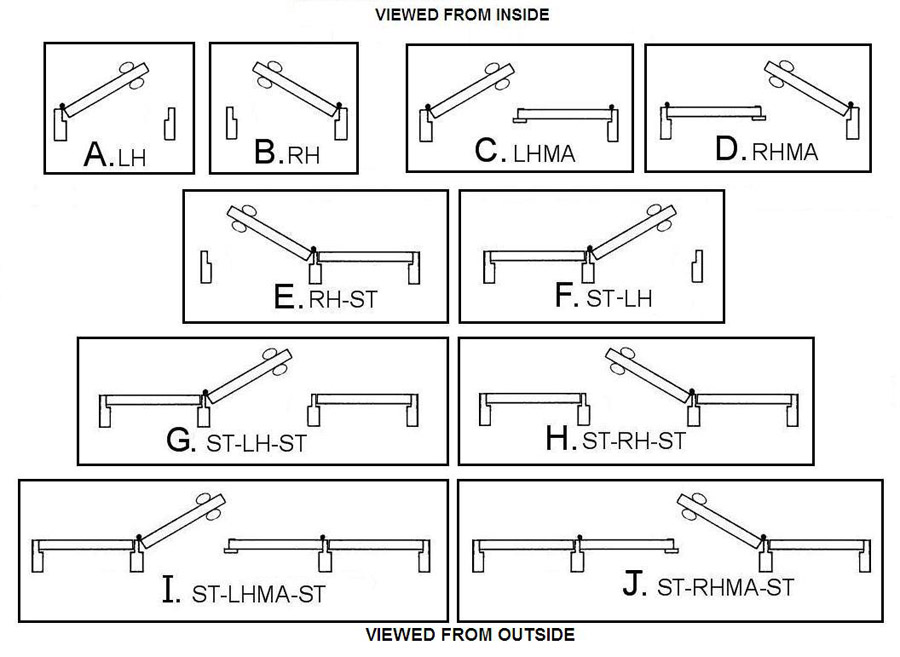 Download the French Doors/Handing Chart.pdf

Questions? Call 219-663-2279 (Sales)
We Make Custom Entry Doors and Glass Very Reasonable Pricing too! Call us for a quote 1-219-663-2279

Chicagoland Wood Doors Showroom is Open in Crown Point, Indiana - Dealers Welcome

Nick's Building Supply, Inc.
●
11100 Broadway Crown Point, IN 46307
● Phone:
219-663-2279
Copyright © 1999-2018 Nicks Building Supply, Inc. All rights reserved.
Privacy Policy
Sitemap